The Fixed Gear thing has supposedly been dying for about a decade now, but for some reason people are still riding them and companies are still coming out with new-fangled ideas for parts. Spotted these awhile ago on
HKFixed
...
...and this yesterday at
3Bancho
...
And let's not forget the handled seat I
referenced a few days ago
...
The bars vaguely remind me of the old Graveyard flatland bars from the mid-90s...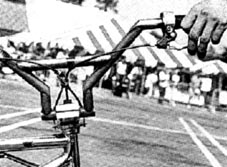 ...and the concept behind the forks is somewhat similar to what WeThePeople did with their adjustable offset flatland forks a few years ago (second fork from the right)...
I personally would be interested in trying out the Starfuckers forks, just to see what they feel like in the zero offset position. I think those could definitely help a lot of guys out, and it would be nice to be able to switch to the more stable offset position for the ride home.
Keep the ideas coming, people. Some of them are good, some of them aren't quite so good, but they're all necessary in their own way...